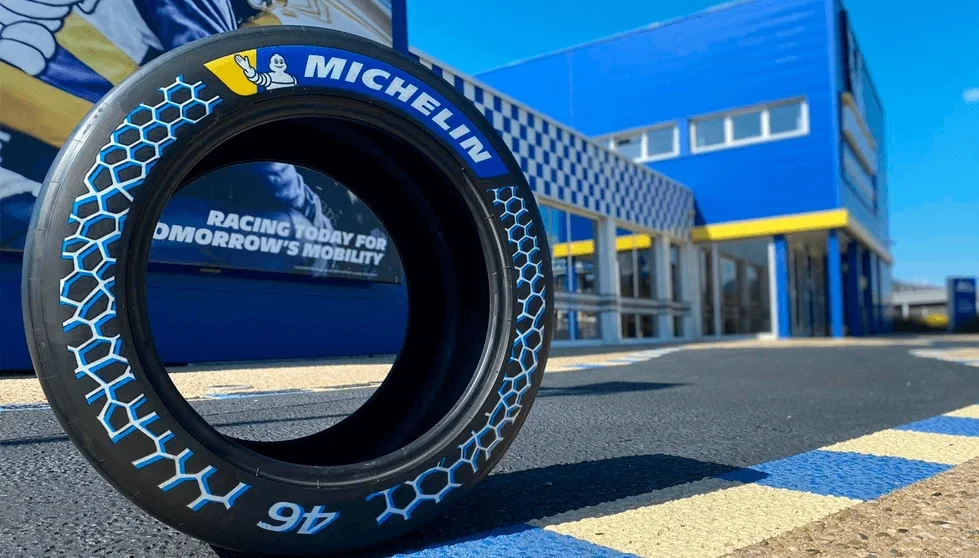 MICHELIN
Michelin is a French tire manufacturer, one of the leaders in its industry. The full name is Compagnie Générale des Établissements Michelin. The headquarters is in Clermont-Ferrand. By its organizational and legal form, it is a joint stock limited partner.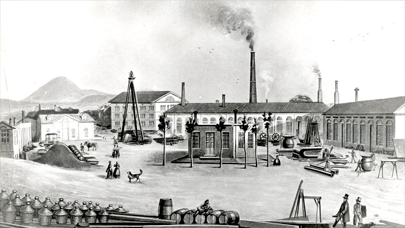 1832
Édouard Daubrée joined forces with his cousin Aristide Barbier to launch a farm machinery business. Édouard was in charge of production while Aristide handled sales and promotion.They quickly made a name for themselves at international trade fairs and exhibitions thanks to the quality of their products and technologies, which used many rubber parts (hoses, valves, fittings, joints, etc.).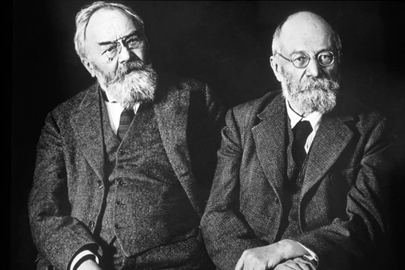 1889
The company faced difficulties after its founders died in 1863 and 1864. Aristide's Barbier's daughter Adèle, who was married to Jules Michelin, was convinced that rubber had a big future. But she first had to face the company's creditors and asked her sons André and Édouard for help.Édouard took the reins of the company, changing its name to Michelin & Cie. Like their predecessors, the brothers had big plans and quickly found new rubber applications. They launched a brake pad for hackney cabs a
1891
A cyclist with a punctured tire appeared in the plant's courtyard one day. His bicycle had glued-on tires – a process that was effective, but hard to repair. Édouard Michelin took a personal interest in the issue and ended up creating a detachable tire to eliminate the many hours required for gluing and drying.With his ingenious system, it took only 15 minutes to repair a flat tire. The modern tire was born and quickly proved itself. Using this tire, Charles Terront won the Paris-Brest-Paris rac
1895
André and Édouard Michelin became interested in the automotive industry, which they expected to grow quickly. They mounted the first car tires they designed on a vehicle called the Éclair, which participated in the Paris-Bordeaux-Paris race.The vehicle didn't win, but made history by becoming the first car to ride on air! This feat allowed the Michelin brothers to showcase the benefits of tires to the world, particularly their reliability, resistance, safety, and comfort.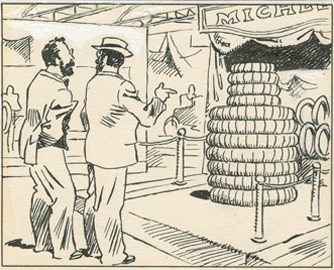 1898
The Michelin Man was born in a pile of tires. His instantly recognizable silhouette came straight out of the imagination of André and Édouard Michelin and was drawn into existence by artist Marius Rossillon, known as O'Galop.That same year, the Michelin Man was featured in a remarkable composition entitled "Nunc est Bibendum," then at the Michelin stand during the first edition of the Paris Motor Show. From then on, each of his appearances became an event and an opportunity to build trust and fr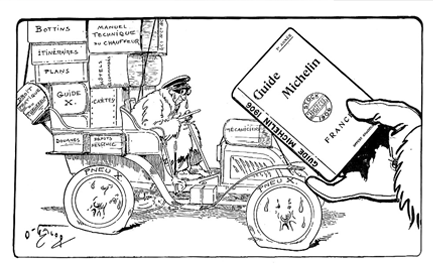 1900
At that time, car travel was a true adventure! André Michelin quickly understood the need to support their customers' journeys. He created a red booklet called the "Guide Michelin," featuring technical recommendations (tire maintenance and repair, etc.) and practical information (addresses of garages, gas stations, tire shops, hotels, etc.).When the "Étoile des bonnes tables" ("fine dining star") Guide was published in 1926, it became a reference for gourmet food lovers and professionals. In 191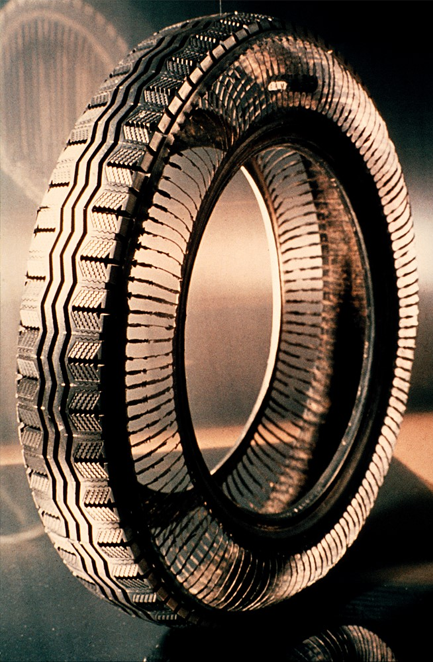 1946
Michelin designed a prototype called a "fly cage" in reference to the widely spaced cables in its casing. Its revolutionary architecture gave rise to the Radial tire, whose patent was filed on June 4, 1946.Sold under the name MICHELIN X, this tire was a real breakthrough thanks to its exceptional performance: incredible longevity (it lasted 2 to 4 times longer than a conventional tire), greater safety, and, above all, reduced vehicle fuel consumption. Radial technology was then applied to all ty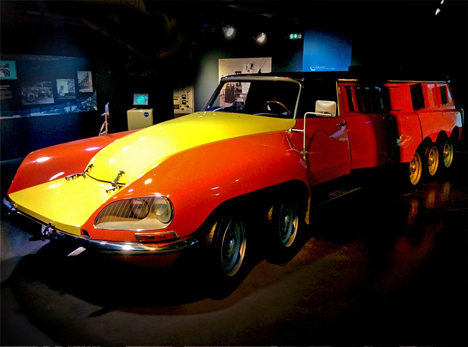 1970
To support the radialization of the market, Michelin devoted most of its financial resources to developing the X tire. In 1965, the first research and test center opened in Ladoux, near Clermont-Ferrand (France). It featured laboratories, workshops, and tracks.The company then built other centers: Alméria in Spain (1973), Laurens in the United States (1977), and Ota in Japan (1991). Michelin also used state-of-the-art analytical vehicles to test the tires. The most remarkable was the Milles Pate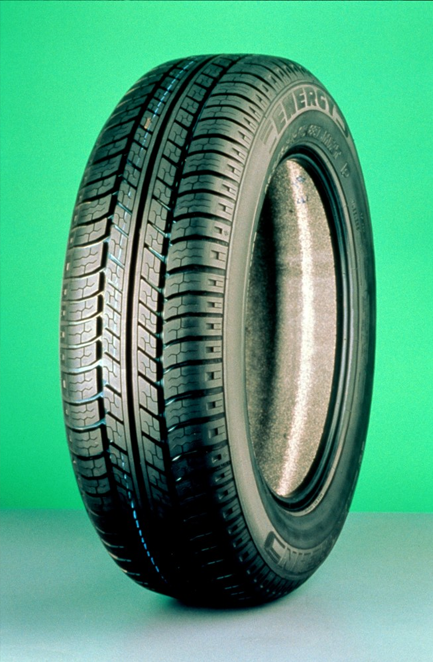 1992
At a time when the environment wasn't yet a priority, Michelin launched the "Green Tire" concept. Introducing silica into the mixes significantly lowered the tire's rolling resistance, reducing fuel consumption and limiting CO2 emissions.Michelin officially presented the tire at the 1992 Paris Motor Show under the name MXN (N for Nature). Two years later, Michelin launched its first range of "Green Tires" called MICHELIN Energy.
2017
Michelin was a visionary from the very beginning and remains a visionary today. Its VISION concept offers a true technological leap forward, nearly 30 years ahead of its time! The VISION tire is biosourced, connected, and has a renewable tread, illustrating Michelin's sustainable development model for tires until 2050.It's also the North Star that guides and inspires the Group's R&D teams. With 19 patents, VISION offers an unparalleled field of experimentation and innovation.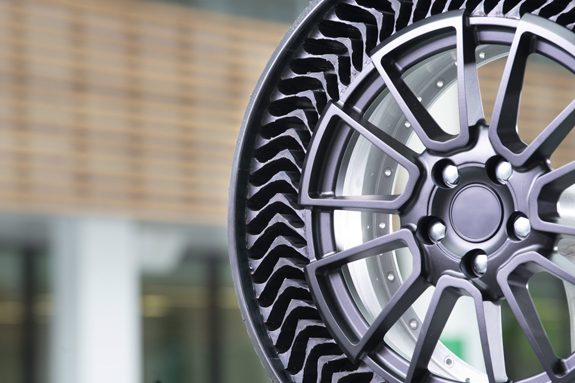 2019
Florent Menegaux became CEO at the end of the May 2019 Shareholders' Meeting. The same year, the Group unveiled MICHELIN UPTIS, a tire that is puncture-proof tire since it doesn't use air. This major revolution makes punctures a thing of the past, eliminating the need for spare wheels and other tire repair kits.It's the greatest tire innovation since the discovery of the Radial tire in the late 1940s. This technological feat has already received four prestigious awards in the innovation and tire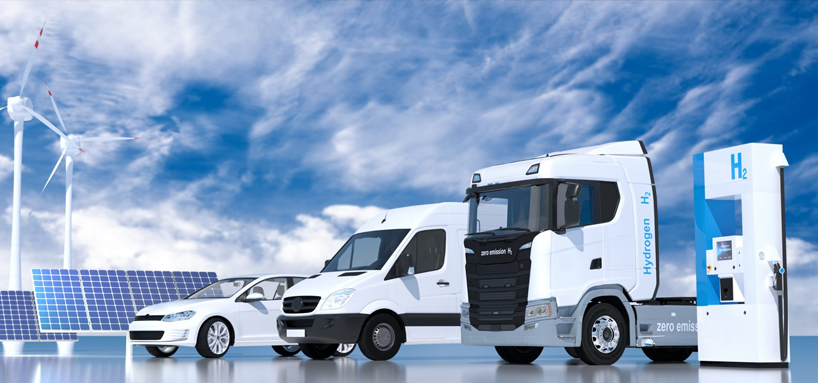 2020
Because we must act quickly to protect the planet and its inhabitants, Michelin is expanding its commitments and actions around the development of the hydrogen industry, resource preservation, biodiversity protection, the fight against climate change, and safer mobility.As always, the Group is relying on the incredible innovation laboratory that is motorsport to meet the challenges of future mobility and accelerate the use of sustainable materials. Examples: "Mission H24," the project to introdu